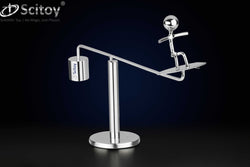 STAINLESS STEEL BALANCING SURFER MAN TABLE TOP FOR MEDITATION, ENTERTAINMENT, OFFICE - HOME DECORATIONS AND GIFT.
✅ UNIQUE & MODEL
Ingenious designs and unique style. It's well made from high-grade metal, and not easy to damage.

✅ HELP YOU RELAX
It's a neat focal point to distress after a busy day at work. When you get bored and feel there is too much pressure, you can put it on your desktop and start it to get enjoyed. Quietly watching its fascinating swings, it will be fascinating to you. It can kill time and help you relieve stress.
✅ ENTERTAINMENT & EDUCATION
This classic desktop toy provides you with many benefits and entertainments which is suitable for various locations such as houses or offices and is an intriguing device that not only demonstrates motion but also helps to show the laws of conservation of momentum and energy.
✅ BEST GIFT
BEST GIFT It is an amazing and fantastic product. Its elegant gift package makes it spruce up and presentable. It has a wide range of applications as, great gift for Kids' science projects, as a Christmas gift, Physical/mechanical learning, teacher's Demo props on the class, birthday gift for your Love, friends, father, mother, family members, kids, etc. 
Product Details
Base diameter: 3 inches
Base height: 5 inches
Pendulum length: 11 inches
Balancing man: 3 inches tall
Material: Pure stainless steel
Finish: Precision-machined & Polished.   
Space needed for movement: 12 inches